Do you have neighbors competing for the best landscape or the greenest lawn on the block? They're actually doing something right. Think about how many heads turn as people walk down the street, or how many people who stop to admire the view. Curb appeal is a foolproof way to attract passersby and welcome your visitors. Imagine a cupcake with no icing! A cupcake is not complete without the icing, and the same concept applies to your home. These 7 features can add curb appeal to your home from front to back.
Of course, the entry of your home is important. It's a perfect way to accent the front of your home. Wood and steel doors with glass detail or colors are in! Each color represents a different vibe or mood.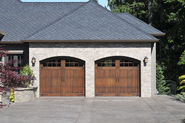 A garage door can get beat up over the years with normal wear and tear from the weather, and they can add curb appeal just as easy as they can take it. There are many varieties of color and styles to choose from.
These can act like the red carpet leading to your home! There are many unique patterns that are bound to impress your potential buyers or guests.
Different styles of windows can add charm and class to your home. Choosing with traditional shutters or an open bay window can add to your curb appeal. Decorate your windowsill with plants to add an extra pop of color.
It's a creative way to add color and a welcoming feel. You're not the only one who will enjoy it! Check out a list of Perennials that are perfect for beginners here.
Add miscellaneous features to promote a homey feeling to all of your visitors, passersby, and of course, yourself. Call your home your own by decorating the yard with the things you love: fountains, bird baths, welcome signs, wreaths, and more!
Believe it or not, outdoor furniture can enhance curb appeal. Porches are perfect for swings, tables, and chairs, depending on the size take advantage of the space. Wave hello to guests, neighbors, and passersby as they admire your home from the curbside.