The term "Millennial" seems to be the topic of conversation lately, and frankly, we have to get used to it. Millennials are about to be more than just a buzzword. This massive generation of approximately 80 million is about to take over the housing market.
Much is to blame for the Millennials' delay in joining the housing market: student loan debt, a weak job market, low wages, etc. However, a recent survey conducted by TD Bank shows that Millennials are growing up and getting out there. REALTORS®: take note of the highlights to become fully prepared for the largest generation to start looking for and purchasing homes.
1
When should you expect the Millennial Boom?
Millennial participants, ages 18-34, reported in the survey that they will be participating sooner than later. The majority of them plan to purchase their first home in the next 1-2 years.
2
Where are they looking?
Surprisingly, the Millennial's most popular area to buy a home is outside city limits, in suburbia. Are they settling down? Urban/Metro areas were the second most popular.
3
What types of homes are most popular?
Foreclosures are not the best way to go for all Millennials. Move-in ready homes doubled in popularity over fixer-uppers.
4
Which amenities are most important?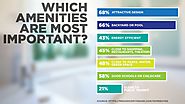 From an attractive design to the location, amenities are important to every home buyer. Millennials voted on various home amenities, and an attractive design was a main component they looked for in the home buying process. *Note: All surveyed were able to vote more than once for their most important amenities.