Platinum Home Mortgage has yet another new branch located in the gateway to Mount St. Helen—Castle Rock, Washington. This small city is "a wonderful place to live, work, and play. It's a community where the people are as resilient and vibrant as the natural features that surround their home; a place where life-long residents and visitors alike feel they are part of the same tight-knit family," says the City of Castle Rock. Give our new branch a warm welcome into the Platinum family!
Don't miss out!
Leading our newest location in Castle Rock is our one of a kind branch manager, Scott Gross! He is a loving husband and care taker of four rescued animals, a great dancer, piano player, and motorcycle racer. Scroll below to find out more! We are happy to have him on the team. 
Contact

Scott Gross

for help into your home!



Outside of work, Scott loves to...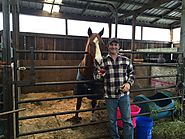 Horseback ride, dance, and ride motorcycles
"I started dancing when I was 11. The first dance I learned was The Hustle, as Saturday Night Fever was just released in theaters. It was a few years later when I got to high school, that I got involved in a sing and dance group of students. We were called The Pirates of Pizzazz (based on a play on words from the musical The Pirates of Penzance.
When I was 17, I started getting involved in multiple forms of dance: jazz, hip hop, and line dancing. A local club I danced for nominated me to perform in an ultimate line dance competition. I ended up getting second place! The guy that won was not a better dancer, but he was doing something consistently that I wasn't: he was flipping his cowboy hat around as he danced. Needless to say, I learned how to do hat flips and tricks soon after!"